As thousands of Victorians made a dash for the border by 4pm yesterday, the stock market gave up early gains. And it was strength of our miners that stopped shares from ending in negative territory.
But what about today and next week, as business leaders predict that this new lockdown south of the border down Victoria way will take a billion dollars off our GDP growth?
To be honest, that's small but it will be the length of the lockdown that will determine the severity of the economic hit. In fact, our market is expected to have a good day today, with the futures pointing to a rise driven by US and Chinese economic data that's saying that the recovery isn't going away any time soon. This was reflected in higher base metal prices.
Looking at the economic hit of the lockdown, Melbourne-based JPMorgan market strategist Kerry Craig was relaxed about the overall impact. "I think as we saw in February the snap lockdowns have worked in the past, so there was some basis for doing it and it can be quite quick in controlling the outbreak - even though this time it seems a little bit more widespread," the SMH reported. "It might hurt sentiment for investors, consumer confidence and that kind of thing, but a seven-day pause in the Victorian economy is not really going to affect the wider trajectory of what is happening."
But Craig nailed the elephant in the room with his final comment.
"Maybe this experience might create some urgency around vaccinations, and increase the rate around the state and country," he said. "So there could be a silver lining to all this."
My old sparring partner, Terry McCrann, writing in The Australian had a lot to say on another lockdown in his beloved Melbourne. After his usual very pointed analysis, he delivered the appropriate and timely pearler: "The plus this time should be to spur vaccination across the country. Once we catch up with the UK and the US, and are about 50 per cent vaccinated, we can have the argument about lockdowns, even 'circuit-breaker ones'.
We were just about the best country in the world fighting the Coronavirus, but we are laggards in the Western world when it comes to getting jabbed. And whether you like it or not, this isn't just an imperative health issue (yes, older Aussies could be killed by the virus), it's an economic issue as well. This chart below drives the message home.
The blue line shows how our economic recovery has outstripped the US and Europe, but recently they've started to play catch-up and because of the latest outbreak and lockdown in Melbourne, our line will go sideways.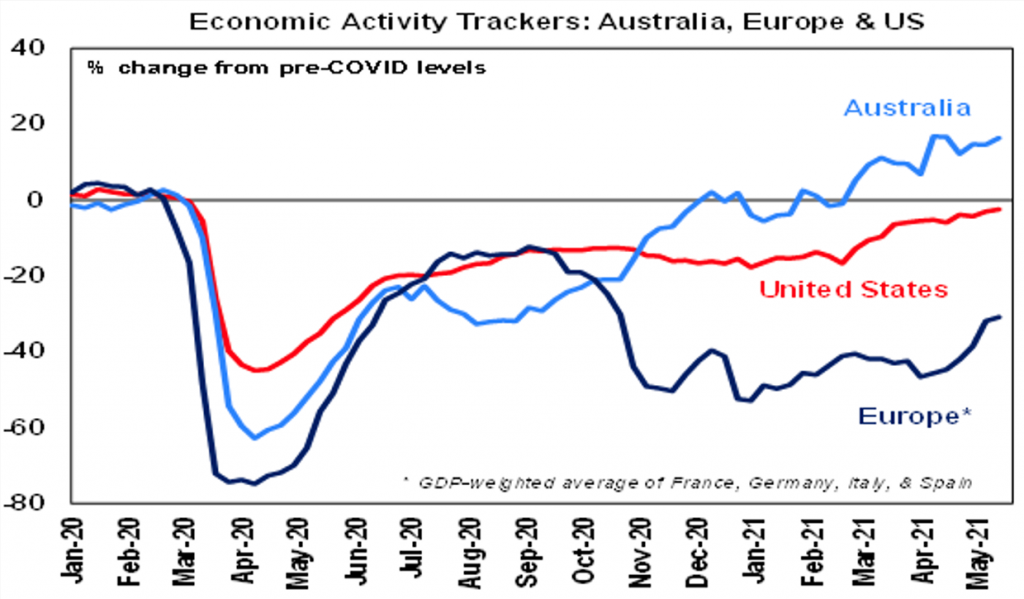 Vaccination rates in the USA, UK and Europe are helping the reopening of their economies while we're standing still, despite our early gains. If the Morrison Government deserved an A for its role in beating the virus, it now must be given a C for handling the jabs.
The Government can't be blamed for AstraZeneca's threat to under 50s, but the actual allocation of vaccines has been second-rate.
I'm waiting to be jabbed but my doctor, Dr Theo Aroney, who has a huge clinic in Bondi Junction seeing 3,000 patients a week with his 27 doctors, was allocated, wait for it, 50 doses a week! And after Dr Aroney was interviewed on 2GB with Ben Fordham a few weeks ago, the 'knucklehead' public servants running this vaccination programme sprung into action and his allocation rose to, wait for it, 150!
In Los Angeles, where my sister Kaye lives and where the threat from the virus was scary and a real killer of over 24,000 citizens, she and her partner jumped into their car, drove to Dodgers Stadium and put their arms out of their car window and were jabbed! Easy as that.
The Yanks screwed up the Covid-containment effort but gee they're "giving one for the Gipper" when it comes to jabbing. Former US President Ronald Reagan used to use this old line from Notre Dame Uni fame. George Gipp was a champion footballer who died tragically at age 25, so the famous Notre Dame coach, Knute Rockne, told his team: "Win just one for the Gipper."
This chart shows what a dud jabbing nation we are.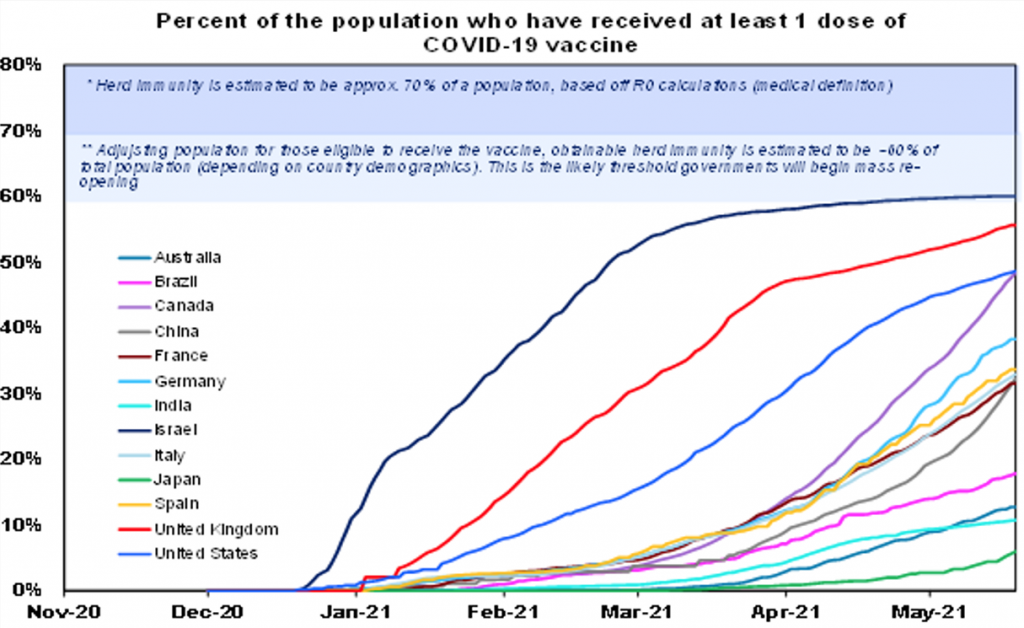 The chart here above is pretty embarrassing. If it doesn't improve, Treasurer Josh Frydenberg's good work to get the economy flying will be brought back to earth.
We need a better jab programme and that's what Dan Andrews and Labor supporters will be arguing today and until the next federal election.
And next week I'll be jabbed for the sake of the economy and my fellow Aussies!