National Australia Bank is the latest of the 20 ASX200 companies to raise capital during the Covid-19 crisis. On Monday, it tapped institutional investors for $3,000m through a placement at $14.15 per share. Now, it is the turn of the more than 570,000 retail shareholders through a share purchase plan (SPP).
The SPP is set to raise a further $500m. NAB shareholders will be able to apply for up to $30,000 of new shares at a price no higher than $14.15 per share. In fact, it will be the lesser of $14.15 and the average trading price on the ASX in the week leading up to the closing date, less a further 2% discount. The offer closes on Friday 22 May.
Despite scary headlines like "Bank loan losses could top $35bn", If you have the cash, it is a "no brainer" to take part in the SPP. Firstly, it is being offered at a big discount to the current market price (11.5% lower than yesterday's ex-dividend adjusted closing ASX price of $15.99). Secondly, it is coming at a discount to NAB's book value of $17.34. Although I am no huge fan of this measure, buying bank shares below book value has historically proven to be a pretty sound strategy. And thirdly, retail investors are provided with "market protection" over the offer period. If they decide they do not really want more NAB shares, they can sell existing shares now at a higher price and replace in the SPP, or make that call after the offer closes and in all likelihood, get out without any real damage.
And as for the scary headline, the answer is that no one, including the banks, really knows. This number was an analyst's forecast of potential lending losses by the major banks over the next 3 years due to the Covid-19 crisis. All we have to go on is the $800m provision from NAB announced on Monday and the $1.6bn provision from Westpac announced on Tuesday. These numbers were based on probability weighted forecast of scenarios modelling economic growth, unemployment and house prices over the next few years. Interestingly, most of the damage is coming from housing loan defaults – residential and commercial.
The issue for retail shareholders is that the SPP is currently only $500m in size. If 25% of NAB shareholders elect to take part, this means an average allocation of just over $3,500 each. If 50% of shareholders take part, an average allocation of just $1,754. Just like the Cochlear SPP, which I wrote about last week, NAB retail shareholders are being screwed.
Fortunately, Cochlear Directors relented to shareholder anger and after the SPP closed, increased it from a miserable $50m to $220m – an increase of 440%. But it was still subject to a scale back, with bids for $417m received!
Let's hope that NAB Directors follow suit and increase the size of the SPP, because it is set to be massively oversubscribed. With retail investors owning about 40% of NAB, on an equity basis, it potentially needs to be as big as $2bn.
These raisings highlight that in the rush for companies to strengthen their balance sheets, retail shareholders are being heavily discriminated against. Most of the 20 companies that have raised capital (see table below) have conducted an institutional placement followed by a SPP to retail shareholders, rather than the fairer entitlement offer structure.
Capital Raisings by ASX 200 Companies since Covid-19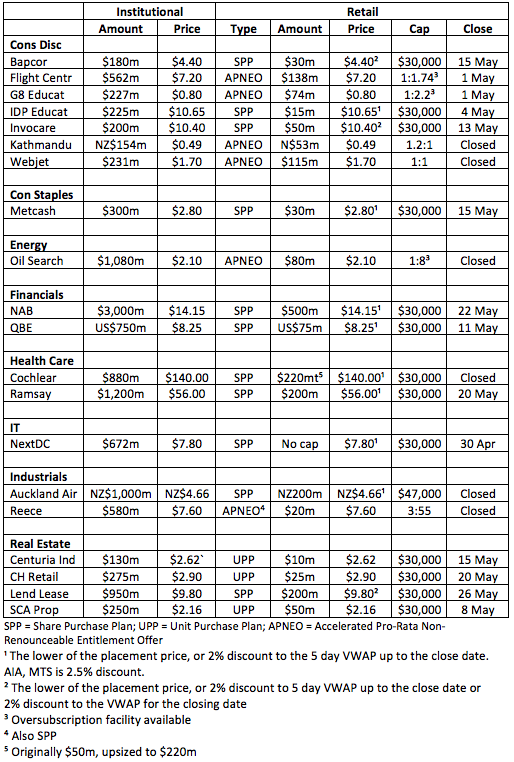 The entitlement offer or APNEO (accelerated pro-rata non-renounceable entitlement offer) is fairer in that the offer is made in accordance with each shareholder's current holding. Webjet had a 1:1 entitlement offer (meaning that a shareholder could purchase 1 new share for every 1 share held), so if you owned 2,000 shares you were able to purchase 2,000 new shares, if you owned 1,000,000 Webjet shares, you could purchase 1,000,000 new Webjet shares. No shareholder ran the risk of being diluted. Fair to all.
And as can be seen from the table above, Flight Centre, Webjet, Oil Search, Kathmandu, G8 Education and Reece have conducted fair entitlement offers. Regrettably, household names such as NAB, Cochlear, QBE and Lend Lease have listened to their investment bankers and chosen to let their retail shareholders down.
There is an argument that entitlement offers are less predictable and harder to underwrite (particularly where retail shareholders are concerned), but that is after all why investment bankers charge their high fees. On equity grounds, there is no argument. SPPs are manifestly unfair.
NAB shareholders should be screaming about the inequity of this capital raising. Let's hope that the NAB Directors get the message and increase the size of the SPP.